The House of Arts and Crafts is a project developed in Cerdeira, one of the schist villages in the area of Lousã, belonging to the network Aldeias do Xisto, with the "aim to build a spot for artists.", according to Kerstin Thomas, who exchanged Germany for Cerdeira to create and embrace the project.
This House was originated from a reconstruction, joining two houses in ruins. The rebuilt was done almost exclusively with traditional techniques, eco-friendly  materials and local products. The use of chestnut woods for all the interior structures, pine woods for floors, and the presence of several regional materials, are only some examples of how this construction preserves the traditional design and how it is truly inserted in the landscape. Moreover, instead of using concrete along with schist rocks, as it is usual in these reconstructions, its walls are solely made of clay and straw and schist rocks. At the present time,  several studios for photography, painting and sculpture, are under construction. The builders that work in the House are receptive to using traditional techniques, that help to maintain the natural and conventional  appearance, preserving  the schist villages without changing the design.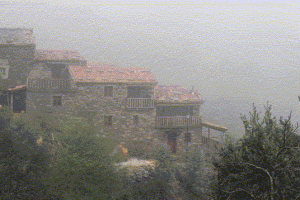 This residency and project is intended to provide a unique environment for artistic creation, whilst offering a constant contact with nature. In these atmospheres, artists are able to develop their creativity and cooperate with each other. The pieces that they create show people the richness and importance of the schist villages and promote the program. The artists, besides being able to rent one of the bunk beds that exist in The House of Arts and Crafts, they can also stay in one of the traditional schist stone homes, provided by Cerdeira Village.
What is more, despite having a focus on contributing to an environmentally responsible consumption they also develop a wide range of activities that include exhibitions, creative retreats, master workshops and a specific festival called "Elementos à Solta – Art meets Nature", that offers an intimate space for dialogue between artists and visitors, making it possible for them to expose their work is an unparalleled event.
The artistic residence program is developed by the Cerdeira Art & Craft Association that has been classified of Cultural Interest by Portugal's Government. Cerdeira Village is supported by the ECO-ARQ Project that has the main goal of promoting the sustainable rehabilitation of the patrimony, built with traditional techniques. In addition, through Res Artis, Cerdeira Village Art & Craft became part of a larger community, promoting dialogue and the share of culture.The House of Arts and Crafts reconciles tourism, art and nature. This is still an evolving project, that grows along with its visitors, cultivates tradition and arts, bringing people and culture together.